Medway Pride Tickets
Medway Pride 2021 – A Festival For Everyone, Be You and make some friends! Celebrate Pride with the LGBTQIA+ community
Update: FInal tickets have been released and we only have a few left. Once Batch 3 have been booked there will be no further tickets released.
About this event
Medway Pride 2021 Festival
Medway Pride festival #MPFestival2021 on Saturday 21st August at Rochester Riverside Walk, Doust Way, off INTRA Old High Street Rochester ME1 1FG is going to be a colourful fun filled event, for all the family to celebrate diversity and support equality, for all communities of Medway. It is in essence a community cohesion event inviting everyone to come together, to breaking down barriers and develop understanding and acceptance of each other.
Everyone is welcome at Medway Pride, its a family friendly event that will include community stalls from the voluntary community sector to advise about the work they provide.
There will also be business stalls providing memorabilia, sweets , hot & cold food including vegan options, refreshments, bar area for over 18yr old,
The entertainment will commence from 12pm with opening speeches from local dignitaries, and supporters, with Medway Pride Radio Roadshow, and ABBA Chique, Chai Latte, Gary Lucas, Elberace (Gay Elvis), River Medway, Amrick Channa, Dr Beverley Ballcrusher, Kelly Wilde & Sami Brooks, with the event closing a 8pm.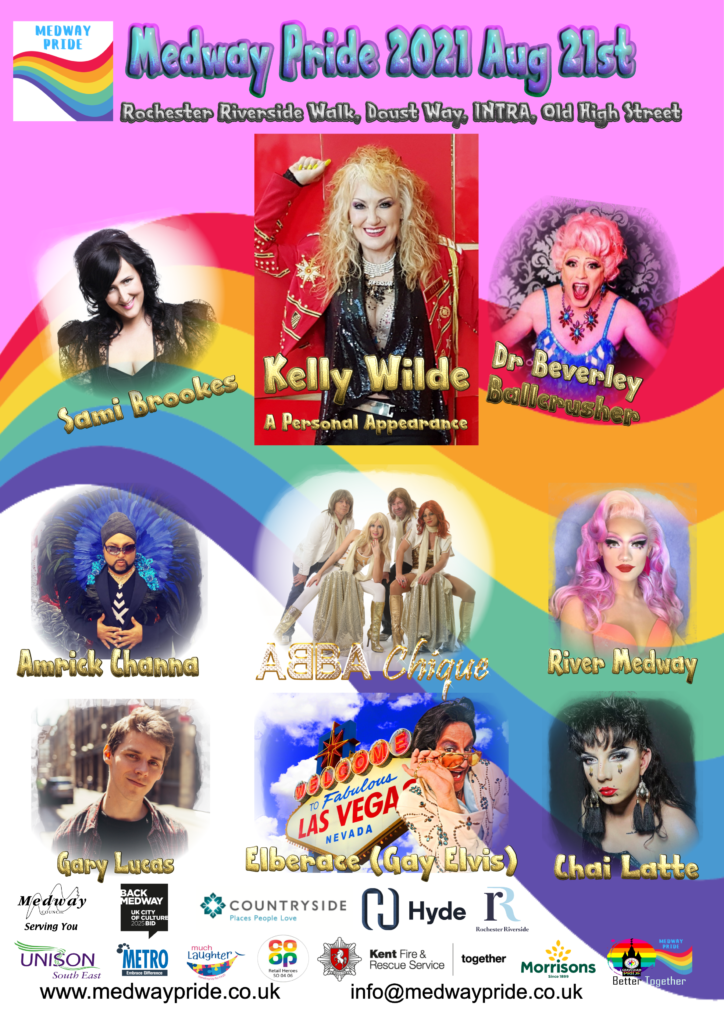 Tickets only allow one person entry to the event.
Update: FInal tickets have been released and we only have a few left. Once Batch 3 have been booked there will be no further tickets released.
Medway Pride 2021 Tickets are Free!
Children 15 yrs old and younger need to be accompanied by a parent, carer, or be part of an organised group under supervision, all will need a ticket to enter
Everybody needs to show a paper or electronic ticket to gain entry
You can book more than one ticket, but each person needs to register with their individual contact details for Track & Trace
Please note Tickets are Not Available on entry to the event!
Tickets should be obtained before coming to the event.
No Entry will be allowed without a ticket!
Getting to Medway Pride
Medway Pride is located at Rochester Riverside Walk, Doust Way, Off INTRA Old High Street, Rochester ME1 1FG.
There is No Parking at the event location.
None resident vehicals may be clamped for unauthorised parking in Doust Way
Public Transport
We recommend people travel by train or public transport to Rochester or Chatham. The event location is between both Rochester and Chatham Train Stations and bus stations.
The route to the site from Chatham rail station travels up and down hill. The rout from Rochester Rail Station and Chatham Bus station is on level groud . the walking distans from all these points is approximately 1 Km.
The 145 bus travels between Rochester and Chatham along INTRA Old High Street.
Parking
There is No Parking in Doust Way.
If you are travelling by car please park away from the event location and walk to Rochester RIverside Walk.
Parking is avaiable in Chatham, the nearest carpark is Sir John Hawkins Car Park ME4 4JL, Other carparks are available in Chatham.
Parking is available in Rochester, the nearest car park is Blue Boar Lane ME1 1PT or Corporation Street Car Park ME1 1NH.
What To Bring
PLEASE NOTE!
BAGS WILL BE SEARCHED ON ENTRY TO THE EVENT
Please only bring the items necessary for use at the event
Acceptable / What To Bring
• Verified Tickets
(This is an obvious one, but it's a good reminder! Be sure to triple check that you have your tickets when you leave home!)
• Wallet with cash / card & Government approved ID
• 1 (one) sealed bottle of water (maximum 500ml)
• Sunscreen
• Fully charged phone and battery pack
• Non professional cameras / polaroid cameras
• Flags, banners or hand made signs (no hard poles, see below)
• Sunglasses
• Small bags or backpacks / purses (12×12 inches max)
• Rain ponchos in case of rain
• Glow Sticks / Illuminated costumes or jewellery
• Bean bags & inflatable chairs/loungers, camping chairs & blankets
•Selfie Sticks
Festival Banners and Totems
• Maximum of 10 foot tall.
• Must be made of a lightweight material (e.g. foam or a pool noodle – no solid metal, PVC or wood).
• Decorated pool noodles work great for easy entrance through security.
• Inflatables attached to totems must be deflated upon entry.
• Signs promoting illegal activity or hate speech will not be permitted.
What Not To Bring
Non Acceptable / Prohibited Items
• Any item which may reasonably be considered for use as a weapon (including pen knives and cutlery)
• Laser equipment or pens • Fireworks / flares
• Smoke canisters
• Chinese lanterns
• Glass (of any kind)
• Personal portable toilets
• Klaxons / air horns / megaphones
(or other similar items capable of making loud noise)
• Personal motorised vehicles (unless a mobility scooter)
• Animals are not permitted at any time (with the exception of guide dogs)
• Drones
• Portable sound systems
• Unauthorised professional photography, film or video equipment
• Illegal substances:
– We operate a zero tolerance policy on drugs/legal highs
– This includes laughing gas/balloons.
• Outside food or beverages with the exception of 1 (one) sealed bottle of water (maximum 500ml)
• Stickers / Flyers / Advertising Material • Stuffed animals or dolls.
•Tent's, umbrellas,
•Toy guns, water guns, slingshots
FAQ
Can under-18s attend this event?
Yes, the event is open to all ages. Those wanting to attend who are under 16 must be accompanied by an adult aged 18 or over. Supervised youth groups are allowed.
Will there be food and drink on sale?
There will be food stalls refreashments and a licensed bar onsite for all guests. All of our vendors are independent and set their own menus and prices. Please be aware that Challenge 25 will be in operation relating to the purchase of alcohol.
Can I bring my own alcohol?
Due to licensing laws, we cannot allow alcohol to be brought into the event. Security checks will take place upon arrival.
Can I bring other food and drink?
The only item permitted is a sealed bottle of water at a maximum of 500ml. There will be drinking water available onsite.
Can I bring my pet?
No. Only guide dogs are allowed onsite.
Will this event be COVID-19 secure?
We expect the event to run as a normal festival as per the government roadmap to recovery, however we are committed to following all current government advice on festivals and live events to ensure everyone is kept safe. We will send an email closer to the time to all ticket holders advising them of any extra precautions they may need to take if circumstances change.
What if I have Covid Symptoms?
If you have covid symptoms please do not attend the event and follow government advice for social distancing.
Track & Trace ?
We need to collect your contact details via the ticket booking request. Tickets will be void if this information is not provided during booking. The information collected will only be used for NHS Track & Trace purposes.
If I need to leave the festival area, will I be able to get back in?
You will not be able to leave the site and come back.
I can't wait to see the announced performers, but with the way things are at the moment, can you guarantee their attendance?
Every effort will be made to keep the line-up unchanged and all of our performers are extremely excited about performing outdoors for us. Obviously in the current climate we reserve the right to make some alterations if needed – eg. If a performer needs to self isolate.
What will happen if this event needs to be cancelled due to the pandemic?
Although the road map for recovery suggests this event will be going ahead without issue, we are aware that the situation is always evolving. If we have to postpone the event, we will automatically transfer tickets to the new date.
Where can I park?
Unfortunately there is no onsite parking for event guests (There is NO PARKING ALLOWED in Doust way. None resident vehicals will be clamped.) You will need to park in one of the many car parks in Rochester & Chatham.
Is the audience area wheelchair accessible?
There is full disabled access onsite as well as disabled toilets. There will be a specific viewing area for our disabled guests. We will do our best to accommodate your needs at the event. Limited disabled parking is available in Doust Way car park.
What happens if there's bad weather?
Hopefully due to the time of year the weather won't affect us too much but the ground at the event can become softer in the event of wet weather. If there's been rain leading up to the event or on the day of the event itself, it's fine to wear wellies and raincoats. The event will be going ahead rain or shine.
I haven't received my tickets – what shall I do?
If you haven't received your tickets via email within two hours of completing your transaction, please check your junk and spam folders. If you still cannot locate your tickets, please email and we will resend your tickets to you. Our e-mail is info@medwaypride.co.uk
It's the day of the event and I can't find my tickets – what shall I do?
If you cannot find your tickets on the day, we would advise coming to the event as soon as it opens and we will check our ticketing system manually for you at the entrance, however the whole party that you booked tickets for will have to be present.
Can I get tickets on the door?
NO TICKETS ARE AVAILABLE AT THE EVENT.
If tickets are still available on the day, then they will be available on Eventbrite.co.uk
I can't attend the event anymore – what shall I do?
Please email info@medwaypride.co.uk to cancel your tickets, or to ask for the named person details to be amended.
I'm bringing a baby with me, are there going to be baby changing facilities on site?
Yes, there will be portable toilets with baby changing facilities
Are you offering carer tickets for those attending with disabilities?
Yes. All tickets are FREE, Order tickets for your carer when you book.
Share with friends