Medway Pride 2022 Tickets
Medway Pride 2022 Registration
Its June and Its Pride Month and we are finalising plans for Medway Pride Event and Parade and registration,
Rochester Castle Medway Pride 2022 & Community Pride Parade Tickets
For more information about the event and booking organisation / group parade continue reading below
Medway Pride 2022
Rochester Castle Gardens open from 10:30am
Pride Parade Rochester High Street – 10:45am
Rocehster Castle Stage opens 12:00pm
Medway Pride is back with a fabulous #MedwayPride2022 line up.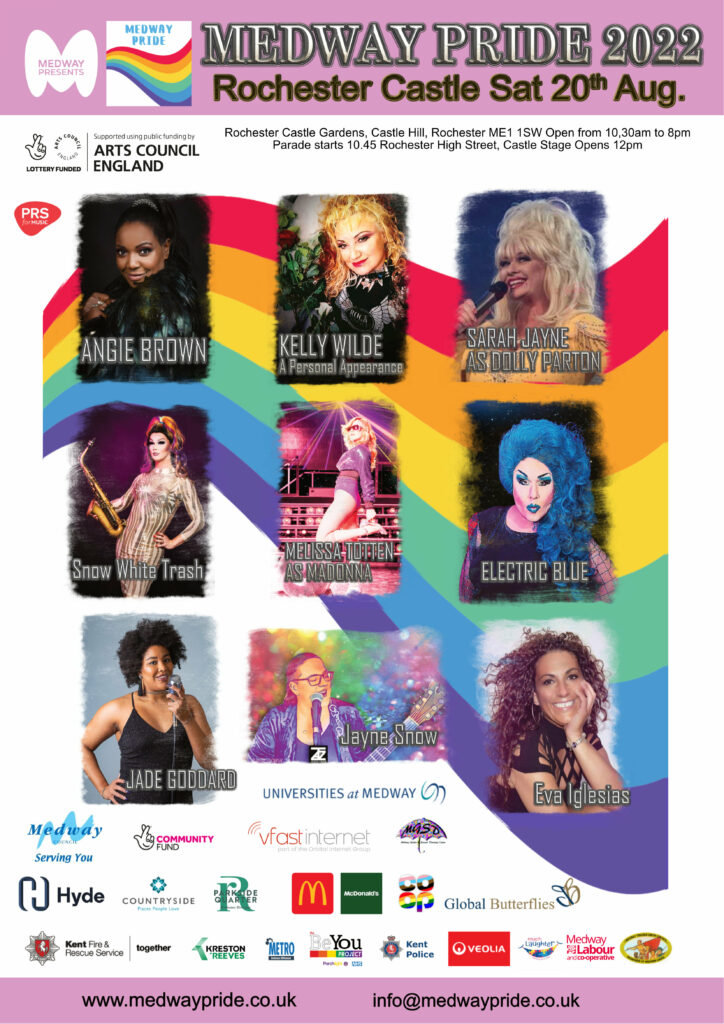 This is a Free to Access Community Event. We raise funds through Community Donations, Sponsorship & Grants to enable Medway Pride CIC to pay for the event. Please Make a contribution that you can afford to Medway Pride Fund so we can continue to provide Medway Pride events free for ther community
Medway Pride is an LGBTQIA+ community festival with entertainment, music, local, national, internationally recognised acts:
Angie Brown
Angie Brown is an internationally acclaimed singer, songwriter and D.J. from London. She is immediately recognised from the classic dance track Bizarre Inc Featuring Angie Brown 'I'm Gonna Get You', which saw them hit No.2 in the U.K. and No.1 in the U.S. Dance Charts.
Kelly Wilde
Kelly Wilde – is an Australian International Recording Artiste who has performed in 32 countries Around the World and Toured the UNITED KINGDOM, AMERICA, INDIA, EUROPE,AFRICA,FAR EAST (JAPAN etc) , AUSTRALIA , THE FAULKLANDS AND EAST EUROPEAN COUNTRIES
Sarah Jane as Dolly Parton
Sarah Jane as Dolly Parton – "Europes Leading Dolly Parton Tribute as said by Kenny Rogers" Sarah Jayne is a professional entertainer, producer and director and has been in the music industry for more than 2 decades.
Snow White Trash
Snow White Trash – is UK's #saxydragqueen. Sassy, beautiful, and talented, this queen always entertains with her saxophone sing-a-long numbers, and her powerhouse vocal performances.
Malissa Toten as Madonna
Malissa Toten as Madonna – There's a wow factor at play here which puts Melissa in the top tier of impersonators and tributes worldwide. The ability to deliver an outstanding performance, to replicate costume and movement, attitude and persona along with impeccable vocal ability that cannot be matched. For more than 20 years, in front of over one million people worldwide, there is no venue too small or too large for this stellar performer.
Electric Blue
Electric Blue – Electric Blue is a fun filled 80s Northern bird live act, live vocalist and comedienne, Queen of Skegness and Queen of the Blue Lipstick, Guaranteed FUN Entertainment
Jade Goddard
Jade Goddard – Amazing performer ! High energy and thoroughly entertaining! Not to be missed!
Jane Snow
Jane Snow – Jayne's electro-acoustic guitar playing combined with soulful vocals enable her to perform a strong set of covers with her own unique twist.
Eva Iglesias
Eva Iglesias – Her singing career started some 10 years ago where she gave an impromptu performance at Sparkles Cabaret Bar in Gran Canaria where she brought the house down to a standing ovation. This performance lead to Eva being asked to host and perform on the main stage at Gran Canaria Pride.
Pride Parade
Medway Pride Parade along Rochester High Street will include local LGBTQIA+ and Community performances along with Community Groups, Organisations & Members of the Medway Community.
Including
Bloco Fogo Samba Band the largest and one of the most versatile samba bands
in Kent and the South East.
Mandiga Arts carnival, street costume performance
The Loco Cabaret, Medways Home of Alternative Drag & Burlesque
Please Help Us To Support LGBTQIA+ Communities
We hope you enjoy Medway Pride 2022 and the fabulous entertainment we have brought you this year. We need your feedback and support to help us raise funding to produce our pride events. please fill in our feedback survey after the event.
Medway Pride CIC is a voluntary not for profit organisation. We have no employees, we are all volunteers so all funds raised go to supporting local LGBTQIA+ voluntary organisations like MGSD Centre, and running our pride events. We need to raise funds to keep producing Medway Pride. Please make a donation to our Medway Pride Fund to help make this and other Medway Pride CIC events happen.
Thank you
Hilary Cooke Chair Medway Pride CIC
Medway Pride 2022 Volunteers
None of our events would happen without the help and support of our volunteers and stewards. You can do anything from an hour to a full day and we have shifts to suit everyone. One-time opportunities happen at a fixed date and time. An example might be helping out at this year's Pride celebration. Regular opportunities can be regular, long-term commitments and happen on different days and times.
Want to volunteer? see our Volunteer Opportunities
Rochester Castle Medway Pride 2022 & Community Pride Parade Tickets
Tickets for the event are not limited but do not guarantee entry on arrival. We have planned for the event to be free to attend for all. There will be a limit on the number of people who can safely enter the castle gardens at any one time, so entry will be on a 'first come first in' basis. Once the safe limit has been reached entry will be open again as people leave the castle grounds so you may need to queue at the gate.
Please follow the instructions of Medway Pride CIC volunteers and security for your own safety and the safety of others.
Medway Pride Parade Tickets
You do not need a ticket to watch the parade, please come down to show your support, wave flags, have fun, and watch the parade from the pavement. Please follow the instructions of Medway Pride volunteers, marshalls and security staff. Do not block the road in Rochester High Street, the parade starts at 10.45am from Star Hill Junction with High Street and will continue along via Boley Hill, Castle Hill into Rochester Castle Gardens.
Being part of the parade
For community members wishing to join the parade, please register using the ticket link and choose the parade ticket.
Get your community parade ticket here
For companies, charities, voluntary organisation and voluntarty constituted groups wanting to take part in the Medway Pride Parade. Please complete the Parade Registration form below and we will contact you with the ticket link for the parade.