Medway Pride CIC is a not for profit Community Organisation
We depend on donations and sponsorship funding to support Medway Pride Events and other services for the LGBTQIA+ community of Medway. You can help us by donating to the Medway Pride fund using the Pay Pal buttons on our pages.
Community funding is the life blood of the work we are looking to achive. We work with other organisations and groups who provide services for LGBTQI+ Communities to help support and promote their services to achive the aims and objectives of Medway Pride CIC
Medway Pride CIC's ultimate goal is to enhance service provision for the LGBTQIA+ community of Medway. This includes improving access to health services, improving welfare, and mental health & welbeing for LGBTQIA+ people. We can achive this by supporting organisations who are porviding services for the LGBTQIA+ community. Developing new support services and helping service providers understand the needs of the LGBTQIA+ community in Medway.
We can only achive these goals by increasing public donations to Medway Pride. Our events are an important part of that fundraising and to that end we wish to deliver a fantastic Medway Pride Event and with your help we can.
Medway Pride Event Sponsorship
Why is Medway Pride A Great Sponsorship Opportunity?
Gives your organisation brand visibility.
Gives unique media opportunities and can assist in the promotion and growth of smaller businesses.
Increased credibility of your business/organisation with respect to its inclusiveness of diversity.
Promotes your business to the LGBTQIA+ community in the Medway area and beyond.
Promotes community cohesion.
MEDWAY PRIDE CIC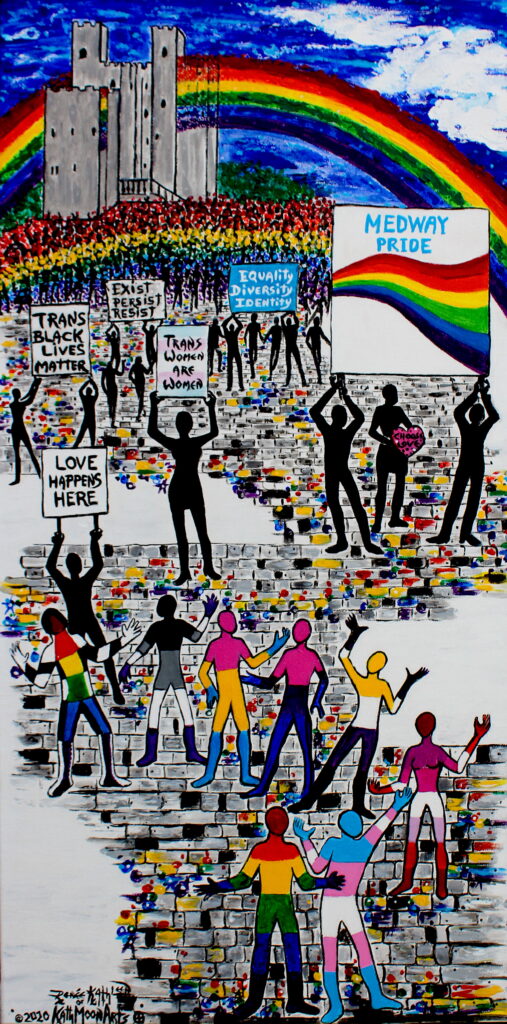 Medway Pride CIC is a not for profit community organisation which aims to promote equality and diversity across all communities of Medway for the public benefit and in particular the elimination of discrimination on the grounds of sexual orientation and gender identity especially for those living in Medway and the surrounding areas in particular but not exclusively.
We aim to do this by;
Raising awareness and educating the public about the issues and difficulties affecting the lives of Lesbian, Gay, Bisexual, Transgender, Queer & Intersex (LGBTQIA+) people.
2) Cultivating a sentiment in favour of equality and diversity through celebrating the diversity of the LGBTQIA+ community
3) Staging an annual LGBTQI+ festival and smaller events, including regular social events for the LGBTQIA+ community in a safe environment throughout the year.
4) Providing funding and or grants and or donations to other charitable and voluntary organisations which support diversity and inclusion of LGBTQIA+ communities in Medway.
Medway Pride CIC is a registered Pride Organisation recognised by the following organisations;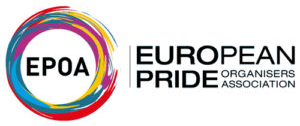 What is Pride?
Pride events are annual celebrations that are held throughout the world which are designed to promote the self-affirmation, dignity and equality of lesbian, gay, bisexual, trans, queer, questioning, intersex, asxexual people and anyone else who identifies as part of what is collectively known as the LGBTQIA+ Community as well as our supporters.
These events, ranging from educational to carnivalesque celebrations are designed to increase visibility of the LGBTQIA+ Community in a positive light, cast away shame and social stigma and highlight how far the LGBTQIA+ rights movement has come and how much further it has to go. They also bring people together, highlight that we are not alone and demonstrate avenues of support. The first Pride event was held in New York in 1970 to mark the one year anniversary of the Stonewall Riots which are considered to be the birthplace of the LGBTQIA+ Civil Rights Movement. Since then, they have spread across the globe. Initially, only large cities such as London and Manchester held Pride events however, this caused many LGBTQIA+ people, particularly youths to leave their small hometowns to find acceptance in these areas often leading to rough sleeping and abuse. With this in mind, in the 2000's smaller towns and cities begun holding what are known as "locality Prides" which encourage the inclusion of people with diverse gender and sexual identities within smaller areas by demonstrating a physical peaceful presence and avenues of support.
Medway Pride 2020
The year 2020 will be remembered as the year normal life stopped for most people, due to the measures put in place to try and control the COVID-19 Pandemic. It will also be remembered by the LGBTQIA+ community as the year that Pride like so many other things had to go virtual. The street parades and parties may have been cancelled or postponed but the community has been as creative as ever in replacing the physical events with virtual pride events. Pride is not just about a party though. It is through pride events that we can reach out to individuals who may feel isolated, to let them know it is ok to be who they are and to love who they love. Pride is a mechanism to break down the barriers of fear and mistrust, by raising awareness, developing understanding, and reducing fear. It is an opportunity to celebrate everyone who is different and raise them up to fight for the equality and human rights we all seek and deserve
In 2020 Medway Pride worked in collaboration with Gravesham Pride and others who saw the importance of delivering a pride event for the community. It was not the same as the original planed event, but it did still bring the community together through You Tube, Facebook, Zoom, Watch Parties and other social media, to celebrate and support each other.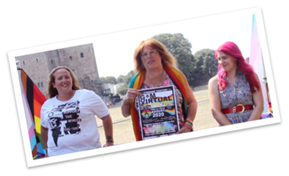 Medway Pride is also a means to raise funds to support the development of services for the LGBTQIA+ community of Medway. Services that are not available or have barriers in place that prevent access to those services. It is for these reasons that we are looking to produce Medway Pride 2021.
Sponsors/Organisers of Medway Pride 2020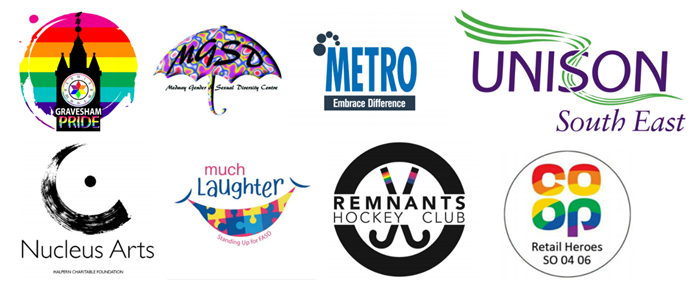 Medway Pride 2021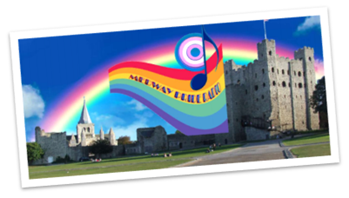 The Covid pandemic restrictions prevented Medway Prides usual opening event, the annual LGBTQIA+ history month exhibition taking place in February 2021. Undeterred, they decided to replace the opening event with the launch of Medway Pride Radio, with the support of the INTRA Cultural Consortium. MPR is a community asset which promotes community & cultural activities and all community voluntary support service across Medway.
Medway Pride Radio is staffed entirely by volunteers who provide a mixture of music and light entertainment as well as thought provoking and educational material.
The main event
The following bullet points highlight the achievements of Medway Pride CIC their sponsors and partners in producing the Medway Pride 2021 event.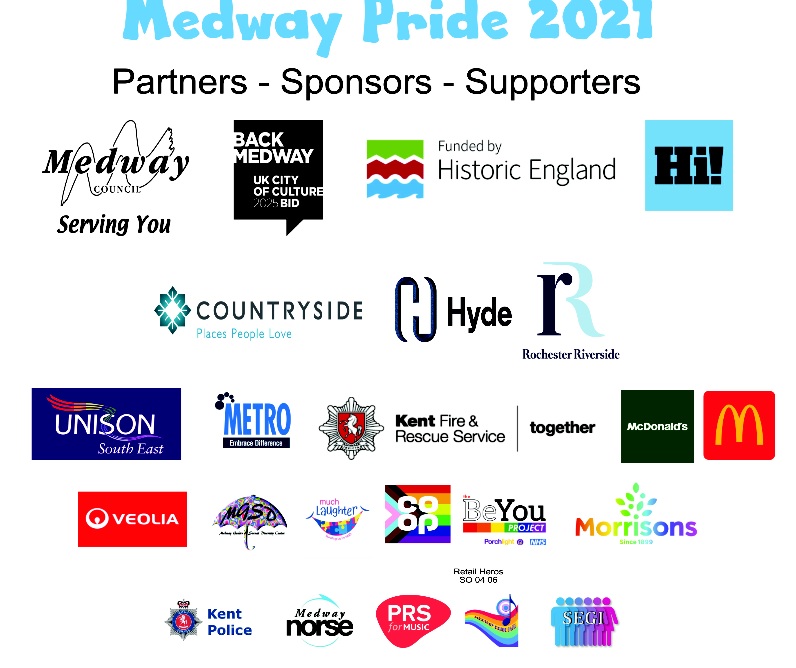 Awarness Raising, One of the Aims of Medway Pride CIC is to raise awareness of the LGBTQIA+ Community and the barriers they face in accessing services and living as their true selves. We achieved this goal which helped to promote not only Medway Pride 2021, but also the Medway Towns as a place of diverse communities and cultural activities & Medway City of Culture Bid 2025 Via Print, TV, Radio Broadcast, and social media.
Public Participation, Ticket take-up happened faster than expected with most tickets being taken within hours of being released and before any major advertising push. All 1500 free tickets were taken and 442 on a waiting list for returns. We could have easily had a take up of 3000 tickets had they been available.
Fabulous Public Reception, In general, the event was well received by those who attended. We have many positive comments from the public about how the event had made them feel proud to be themselves. How they enjoyed the quality and diversity of the acts, and the facilities at the event and we are happy with the production of, and outcome from the pride event.
Opportunities for Creativity, There were participants of all ages using the opportunity to be creative at the Chalk Gallery and the INTRA Arts Badge and Bunting making stand. The event also provided an opportunity for local acts / performers to take part on the stage-based entertainment.

Bringing communities together, Medway Pride 2021 was a safe space allowing people to be themselves. We created an environment where community groups across the spectrum could meet and engage with both the LGBTQIA+ Community and each other which may lead to more cross community collaboration. We successfully engaged with family groups from young children to grandparents.
Medway Pride 2022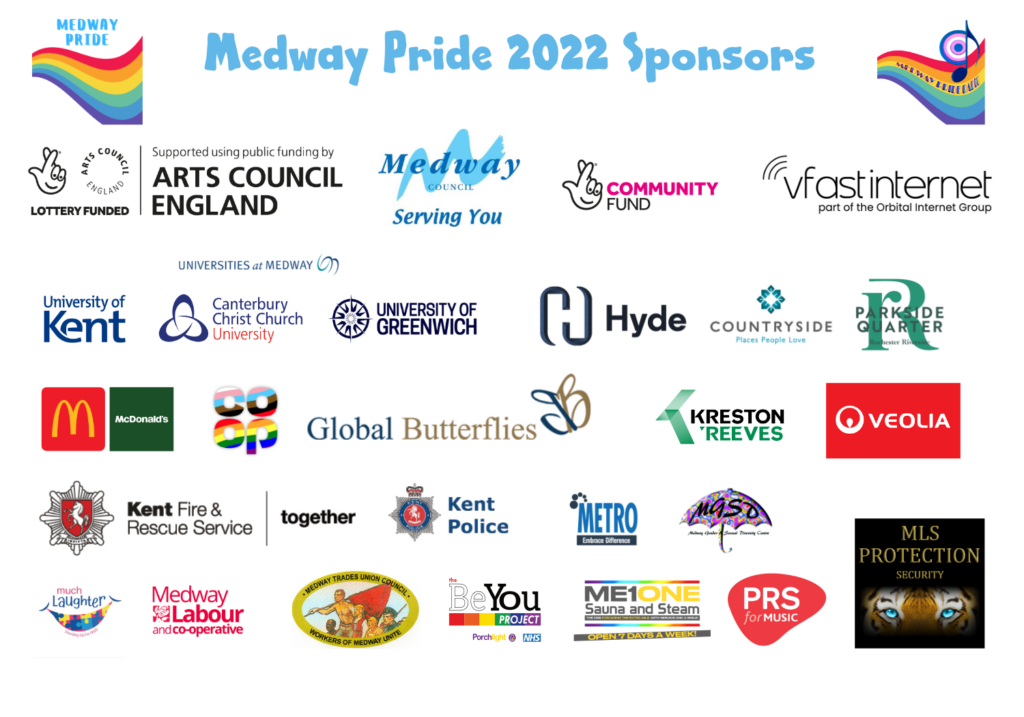 #MPFestival2022 Medway Pride festival on Saturday 20th August 2022 is going to be a colourful fun filled event for all the family to celebrate diversity and support equality, for all communities of Medway. It is in essence a community cohesion event inviting everyone to come together, to breaking down barriers and develop understanding and acceptance of each other.
Medway Council have partnered with Medway Pride CIC to support delivery of Medway Pride 2022 as one of it summer events. We are planning a Pride Parade from Chatham High Street through Intra and Rochester High Street with a stage based entertainment in Rochester Castle Gardens from 12.00pm to 8.00pm. with a mixture of community stalls from organisations providing services in Medway and business stalls selling food, drinks and memorabilia which would be situated around the festival ground.
As well as producing the main pride event, Medway Pride CIC is also an organisation that engages with the community all year round.. With this in mind, we began Medway Pride 2022 in February with an Art exhibition during LGBT History Month with the support of Nucleus Arts. We also celebrated Medway Pride Radios 1st birthday on 1st February and we are hosting national LGBTQIA+ events in Medway, London & Manchester with partners Stonewall and Unison in the summer.
How Can you help?
All Pride events throughout the UK are 100% self-funded meaning that we raise the money for them ourselves. Medway Pride is no exception.
Many Pride organisations reach out to large national companies to raise funds for their events however, because Medway Pride is a local event for local people, we wanted to reach out to local businesses and organisations in order to create lasting bonds of trust between them and the LGBTQIA+ community.
With this in mind, we need your help by;
O Providing something which would help us run Medway Pride on the 20th August 2022.
O Donating goods or services for us to raffle at our fundraising events.
O Organising a fundraiser within your own business/organisation for Medway Pride 2022
O Becoming a Medway Pride Supporter, Sponsor or Partner.
Why support Medway Pride 2022?
Visibly supporting Medway Pride has many benefits to your business/organisation because you are not only connecting yourself to one of the most diverse free events in the borough, you are also connecting yourself to our network of LGBTQIA+ industry professionals and business owners alike.
Supporting Medway Pride increases the credibility of your business/organisation with respect to its inclusiveness of diversity and demonstrates your support for the LGBTQIA+ community to your employee networks, potential customers and client base as well as showing the world that you care about Gender identity and/or Sexuality equality. Medway Pride offers unique advertising opportunities to promote your business to the LGBTQIA+ community in Medway and beyond which can assist in the promotion and growth of businesses/organisations. Most Pride events in Kent attracted 2000-3000 people in their first year, with Canterbury and Margate rising to 20'000+ attendees by year three and an even bigger reach on social media, local media and radio.
Supporter Packages
Medway Pride offers an opportunity for companies to be more creative and interactive with their promotion. Therefore, we always endeavour to keep our sponsorship packages as flexible as possible. Please see a few sample packages. Any questions, or to find out more information about our packages, feel free to contact us.

£10.00—£500.00
Honourable mention on our website and social media.

£501.00—£1000.00
Medium logo on website, 10 FREE Pride Pins, Medway Pride Window Sticker Use of our logo on your website

£1001.00—£2000.00
Larger logo on website, 10 FREE Pride Pins, Medway Pride Window Sticker Use of our logo on your website.

£2001.00—£5000.00
Pride Sponsor logo on the Medway Pride website and bio., 20 FREE Pride Pins, 5 FREE Pride T-Shirts, Medway Pride Window Sticker, Periodical "shout-outs" from the main stage, Branded advertising during the Medway Pride event Invitation to attend VIP After Party.

£5001.00—£10000.00
Pride Sponsor logo on the Medway Pride website and bio., 50 FREE Pride Pins, 10 FREE Pride T-Shirts, Medway Pride Window Sticker, Periodical "shout-outs" from the main stage, Sponsor an act on the main stage, FREE stall at the event, Branded advertising during the Medway Pride event, Advert on Medway Pride Radio., Invitation to attend VIP After Party.
For More Information
| | |
| --- | --- |
| Address: | Medway Pride CIC c/o MGSD CENTRE 331 High St, Rochester ME1 1DA |
| Telephone: | 01634 408668 |
| E-Mail: | info@medwaypride.co.uk |
| Website: | Medwaypride.co.uk |
Header Photo by Jordan McDonald on Unspla