Medway Pride 2023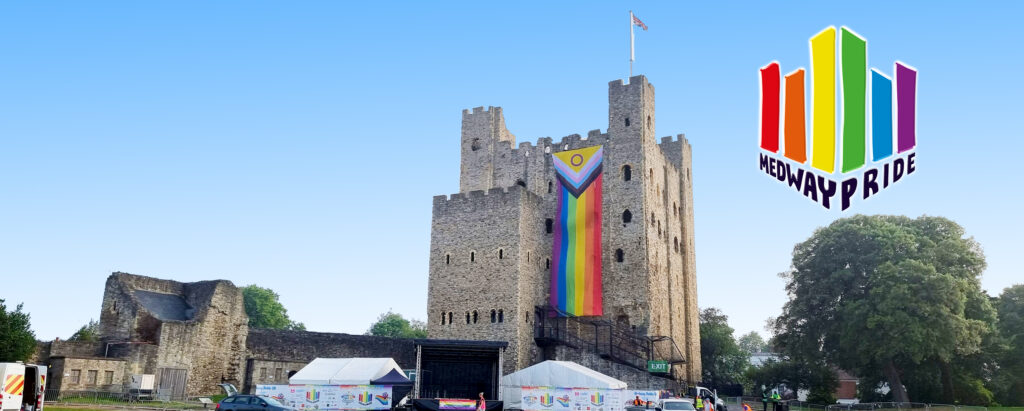 THANK YOU FROM MEDWAY PRIDE CIC.
Medway Pride 2023 was a fabulous event, thank you to everyone involved in producing and creating such a fun day. We also thank everyone who attended any of the events during the Fringe Pride and Pride festival at Rochester Castle. We are busy putting together photo albums and creating a report on the outcomes for our funding partners. You voice is an important part of the feedback we use to produce the report. We are asking you to complete a short survey so we can include your feedback in our report.
Please vist thank you for your support, I could not produce Medway Pride without it. Please do fill out our after pride survey, it informs our report to funders and helps fund Medway Pride 2024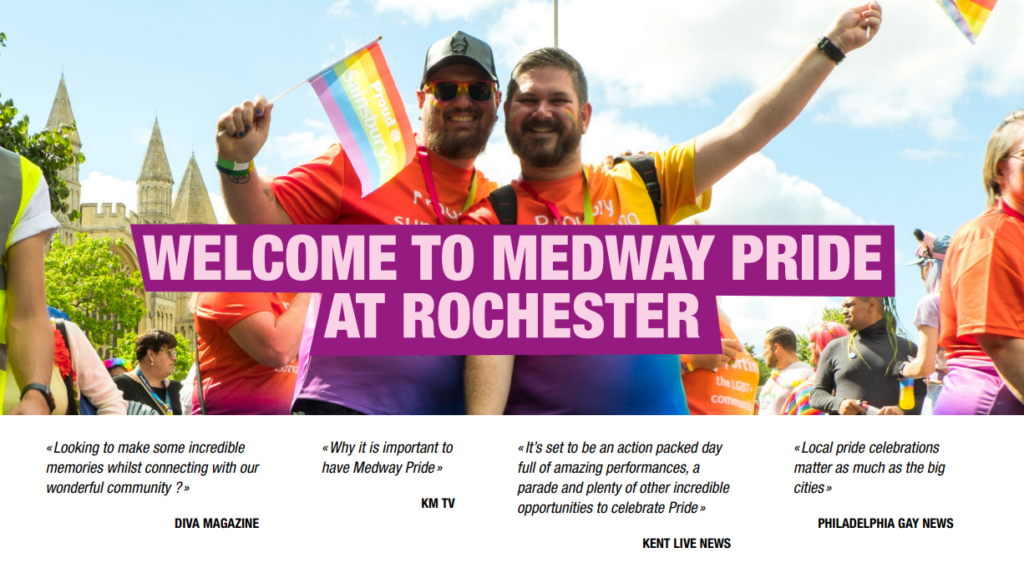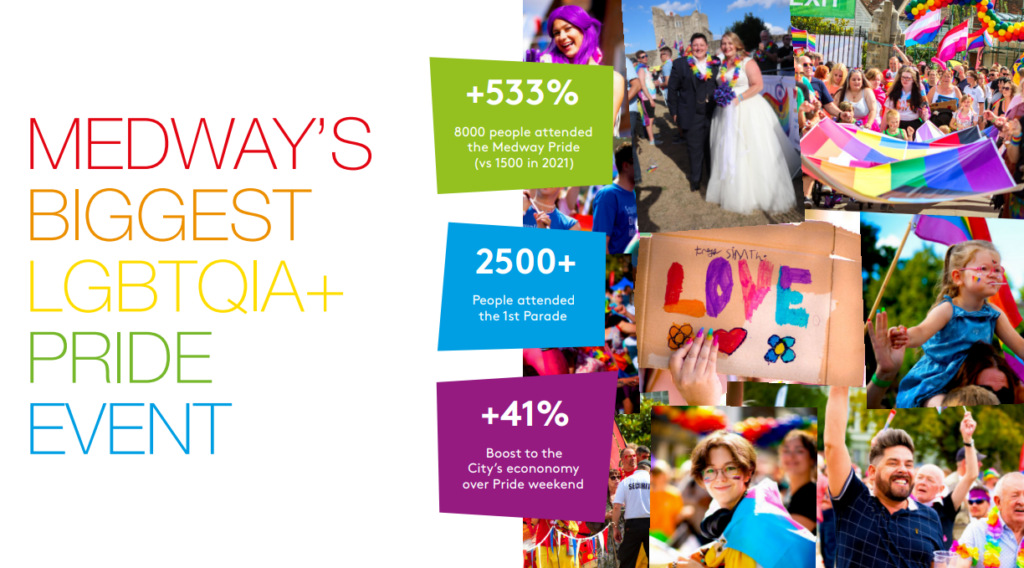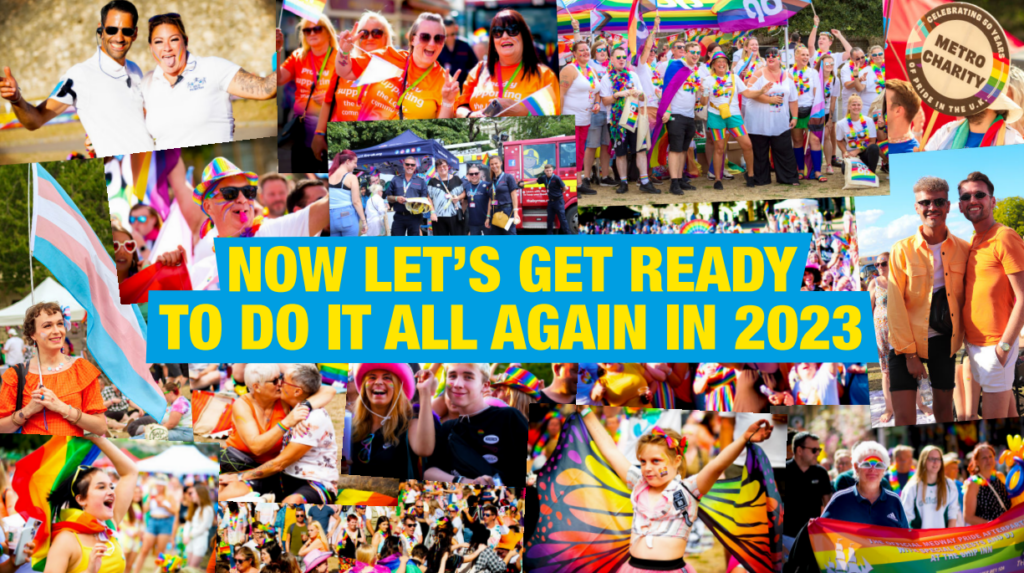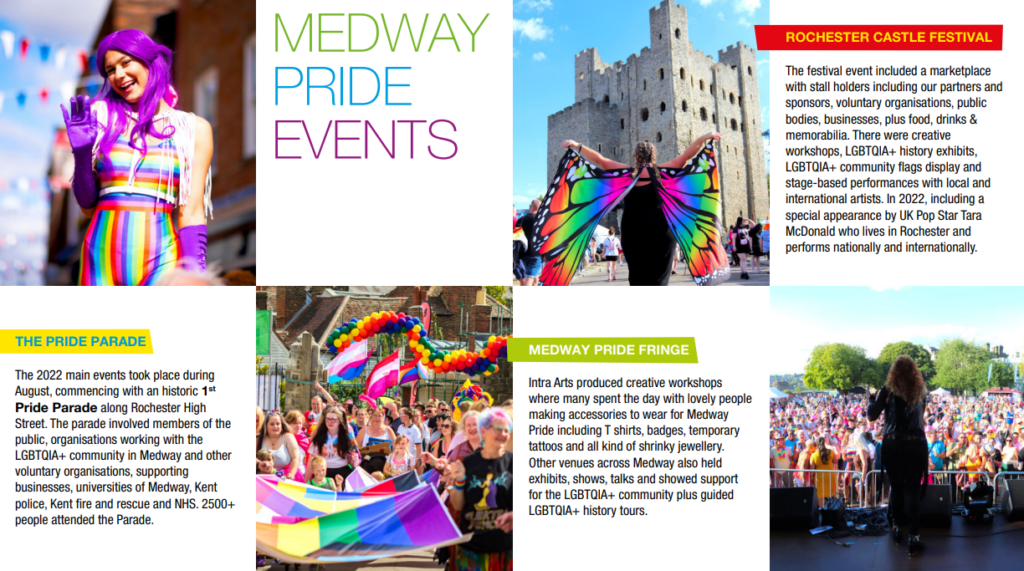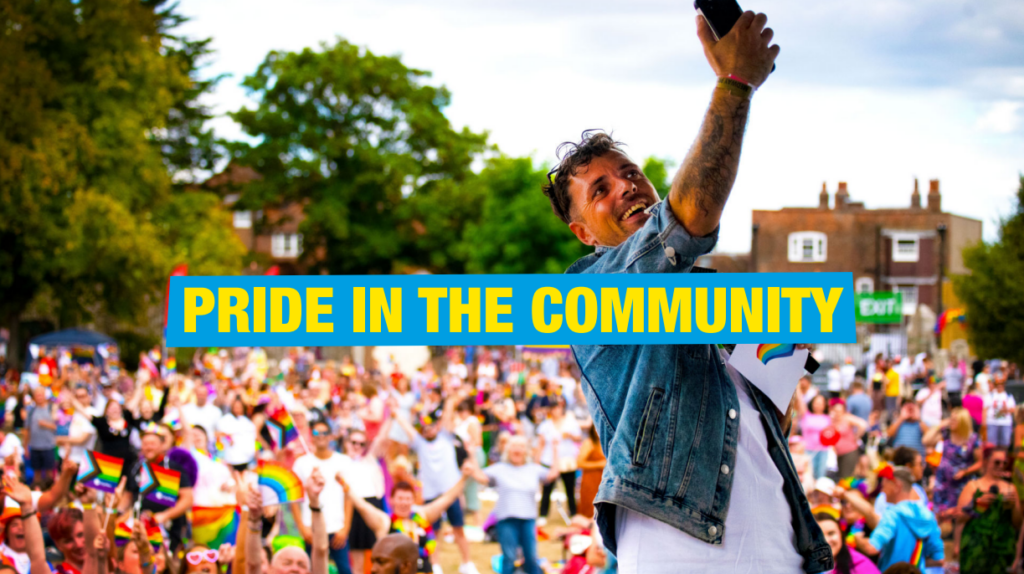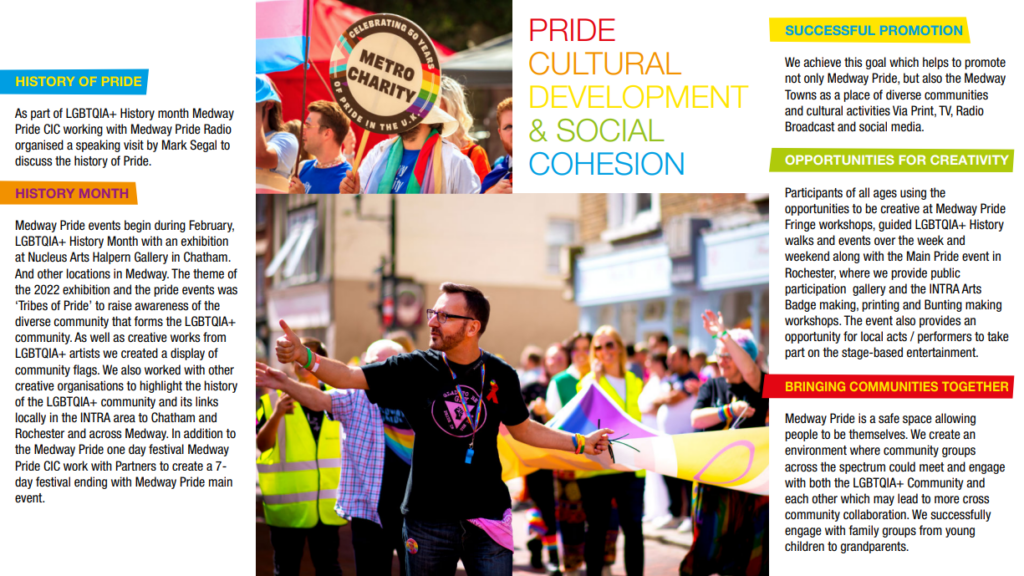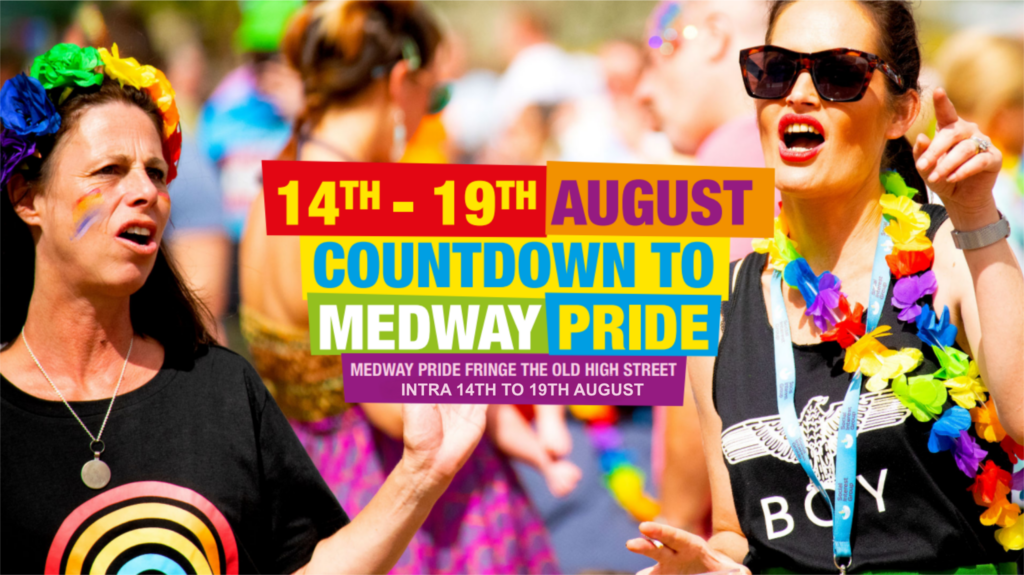 Medway Pride 2023 Tickets
Tickets for Medway Pride 2023 – Next ticket release date will be 1 minute to midnight Friday 7th July.We will be posting links below to get tickets here and on Medway Pride social media. If you register to take part in the community parade you only need the parade ticket as it also gives entry to Rochester Castle Gardens. You will need a ticket to enter the Castle Gardens event. Babies and toddlers under 5yrs (eg being carried or in push chair, pram) do not need tickets. Under 16yrs will need adult supervision 18+ years.
Medway Pride Ticket Update.
We released two batches of free Tickets for Medway Pride 2023 on June 1st 2023. Tickets were available from 00,00am 1st June. Due to popular demand the first batch of free tickets were sold out by 11.30am. A 2nd batch were released around 11.30am and these were sold out by 18.12pm. We will be releasing further tickets at a later date which we will advise in advance.
In the meantime there are some tickets avilable with donation values, the donation goes towards supporting the LGBTQIA+ services and events that Medway Pride CIC provide.
You can book up to 4 tickets via the ticket site. We ask you to only take tickets for personal / family group use. this is to help prevent duplicaton of tickets for individuals. If you require more than 4 tickets you can use another email to register for more
Medway Pride 2023
Please read all the information listed on the ticket registration page, by registering for a ticket you accept all the conditions listed. This is the first batch of tickets to be released, further tickets will be released once the free tickets are taken
Rochester Castle Gardens open from 10:30am
Pride Parade Rochester High Street – 10:45am
Rocehster Castle Stage opens 12:00pm
Medway Pride is back with a fabulous #MedwayPride2023 line up.
This is a Free to Access Community Event, you need a ticket for entry to the event at Rochester Castle Gardens. If you have a ticket to enter the Medway Pride Parade along Rochester High Street this will also give you entry to the castle gardens so you only need the one ticket. There are free tickets and tickets you can purchase with a donation amount as a variable value. The funds raised from the donation via the purchased tickets are donated to Medway Pride CIC Fund. You can also make donations to the Medway Pride Fund or buy Medway Pride Lottery Tickets which all help our causes.
To fund Medway Pride 2023 we raise funds through Community Donations, Sponsorship & Grants to enable Medway Pride CIC to produce the event. Please Make a contribution that you can afford to Medway Pride Fund so we can continue to provide Medway Pride events free for ther community.
Tickets to enter Rochester Castle Gardens and the event are limited as there are capacity restrictions to keep attendees safe. There is a limit on the number of people who can safely enter the castle gardens at any one time. Due to the safety limit on tickets we are asking for holders of tickets they do not need to return them via the eventbright app/website.
Please follow the instructions of Medway Pride 2023 security staff for your own safety and the safety of others.
Medway Pride is an LGBTQIA+ community festival with entertainment, music, local, national, internationally recognised acts: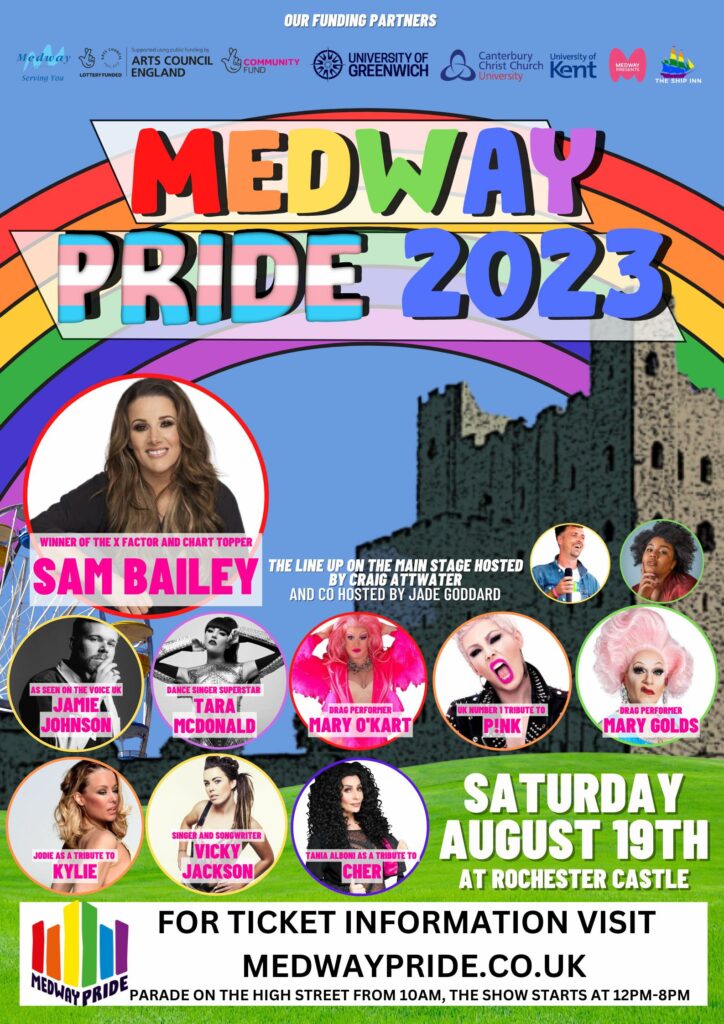 Medway Pride 2023 Parade Registration
Rochester Castle Medway Pride 2023 & Community Pride Parade Tickets
Pride Parade
Medway Pride Parade along Rochester High Street will include local LGBTQIA+ and Community performances along with Community Groups, Organisations & Members of the Medway Community.
Including
Bloco Fogo Samba Band the largest and one of the most versatile samba bands in Kent and the South East.
Mandiga Arts carnival, street costume performance
The Loco Cabaret, Medways Home of Alternative Drag & Burlesque
Please Help Us To Support LGBTQIA+ Communities
We hope you enjoy Medway Pride 2023 and the fabulous entertainment we have brought you this year. We will need your feedback and support to help us raise funding to produce future pride events. By registering for Medway Pride 2023 tickets you are giving permision for us to send you updates about the event and for Medway Pride CIC to send you an email with a link to our event survey, please fill in our feedback survey after the event.
Medway Pride CIC is a voluntary not for profit organisation. We have no employees, we are all volunteers so all funds raised go to supporting local LGBTQIA+ voluntary organisations like MGSD Centre, and running our pride events. We need to raise funds to keep producing Medway Pride. Please make a donation to our Medway Pride Fund or buy Medway Pride Lottery Tickets which all help our causes. to help make this and other Medway Pride CIC events happen.
Thank you
Hilary Cooke Chair Medway Pride CIC
Medway Pride 2023 Volunteers
None of our events would happen without the help and support of our volunteers. You can do anything from an hour to a full day and we have shifts to suit everyone. One-time opportunities happen at a fixed date and time. An example might be helping out at this year's Pride celebration. Regular opportunities can be regular, long-term commitments and happen on different days and times.
Want to volunteer? see our Volunteer Opportunities
Rochester Castle Medway Pride 2023 & Community Pride Parade Tickets
Links for Medway Pride 2023 Tickets to join the community parade including entry into the castle grounds will be placed hear and on our social media pages
A link for tickets will be placed here
Please follow the instructions of Medway Pride CIC and security staff for your own safety and the safety of others.
Medway Pride Parade Tickets
You do not need a ticket to watch the parade, please come down to show your support, wave flags, have fun, and watch the parade from the pavement. Please follow the instructions of Medway Pride security staff. Do not block the road in Rochester High Street, the parade starts at approximately 10.45am from Star Hill Junction with High Street and will continue along via Boley Hill, Castle Hill into Rochester Castle Gardens.
Being part of the parade
For community members wishing to join the parade, please register using the ticket link and choose the Parade & Castle entrey ticket.
For companies, charities, voluntary organisation and voluntarty constituted groups wanting to take part in the Medway Pride Parade. Please complete the Parade Registration form below and we will contact you with the ticket link for the parade.