Entertainers, Musicians & Artists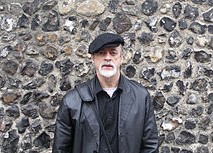 William "Bill" Lewis (born 1 August 1953) is an English artist, story-teller, poet and mythographer.[1] He was a founder-member of The Medway Poets and of the Stuckists art group.
Bill Provided this performance and reading of two of his poems, introduced by Mama G.
Bill Lewis was born in Maidstone, Kent, England. He attended Westborough Secondary Modern School and left in 1968 with no qualifications.[1] In 1975, with his friend, Rob Earl, he started a series of poetry readings called Outcrowd at the Lamb pub, later renamed Drakes' Crab and Oyster House, by the River Medway in Maidstone.[2] Both Charles Thomson and Billy Childish, the later co-founders of the Stuckists group, read at these events.
Lewis has published seven books of poetry and three of short stories; he has made five reading tours in the United States and one in Nicaragua.[10] and has read in Europe. His writing is included in The Green Man (Viking Press), World Fantasy Award winner,[10] as well as The Year's Best Fantasy and Horror, 1997 and 1998.[13][5]
In 2011 Lewis was published by Greenheart Press and his first book with them 'In The House Of Ladders' is a book of poems which also contains six black and white prints by the author. Lewis' second book for Greenheart Press, "In the Long Ago and Eternal Now", was published in January 2017. This also contains black and white pictures by the author and it features several long sequences. Mare Nostrum is a nine part suite of poems that uses the Mediterranean as a metaphor for both the collective and personal unconscious. This sequence has elements of mythology as well as the poet's own personal memories. Another longer piece in the book is called "The Other" and celebrates Otherness in all of its forms e.g. ethnic, gender, duality.
In 2019 the first volume of Lewis' collected poems was published by Colony Press entitled "This Love Like A Rage Without Anger", Poems 1975-2005. This collection contains the first 30 years of his writing including his 'Medway Suite' and poems written in the Americas.
His position in art in many ways stands for the Stuckist ethic.[12] He has said "I do this because I can't do anything else and I've spent 20 years doing it."[12] He says the importance of his work is not in the technique, but "what's underneath it"; he redraws or repaints an image as many as eighty times, until he is satisfied with it.[1] He names as influences Marc Chagall, Paula Rego, Ana Maria Pacheco, films and comic books.[1] He has been quoted as saying "People are never sure if we are being ironic or not. We are not. We are coming from the heart."[12]