Entertainers, Musicians & Artists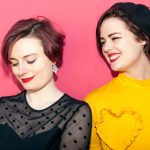 Long-term BFFs Sophie and Nat formed Panic Pocket in 2017 for First Timers Festival and have since been described as 'lo-fi electro-pop heroes'. They released their debut EP Never Gonna Happen on Reckless Yes in spring 2019. Panic Pocket write songs about intense friendships, disappointing relationships and bad bosses. Expect catchy choruses, killer harmonies and relatable content.
Panic Pocket discuss thier music with Natasha, Introduced by Mama G

 
No upcoming events found.