Entertainers, Musicians & Artists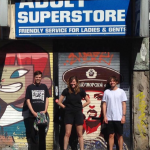 Adults are your awk pals who've listened to too much indie pop and 90s emo. Dance along to songs about crap jobs and MSN whilst all their gear breaks, it'll be a blast xoxo. 
Natasha Steer introduces the band and two videos.
No upcoming events found.