Entertainers, Musicians & Artists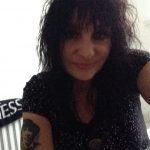 Renne A Kathleen
Artist / Musician
Originally a native of Los Angeles, California, Renee Kathleen has resided troughout the USA and the U.K.  Embracing the many multi-cultural experiences of travel, she developed a unique style that reveals elements of the mystical, exposing the spiritual energy contained in all beings.
Renee discusses her art and the Medway Pride Mural with Hilary Cooke

Whether with words, photographs or vibrant colourful brush strokes, her art captures and releases the true essence or soul-whatever or whoever the subject matter, demonstrating a respect and a reverence for the Divine present in individuality.
Prior to formal training, her first exhibit and awards were at age 14. Silk screen graphic 'The Oaks' and the acrylic painting "The New York Jets vs. the Miami Dolphins" exhibited at The Polk Museum of Fine Art.  Theatre set design & stage painting would lead to future residential and commercial murals.
Journalism, combined with Printmaking and Fine Art Photography studies in college would prove beneficial for exhibits in Tampa, Florida, featuring poetry and Infrared Black and White Photography.
Freelance journalist, photographer, poet, bronze sculptress or cannon caster, all mediums are expression to Renee Kathleen, aka R Kath Moon of KathMoonArts.