Medway Pride 2021
This was Medways 1st in person large Pride Event
It was ran in conjuction with Gravesham Pride which took place on 14th August and included Fringe Pride Events throughout the week.
Medway Pride 2021 Adults Only History Walk – Carry On Up the Khyber – Info & Tickets
Pride River Trips from Sun Pier – Info & Tickets
SAVE THE DATE SATURDAY 21st AUGUST
Medway Pride 2021 Festival
Medway Pride Announce entertainment line up for Saturday 21st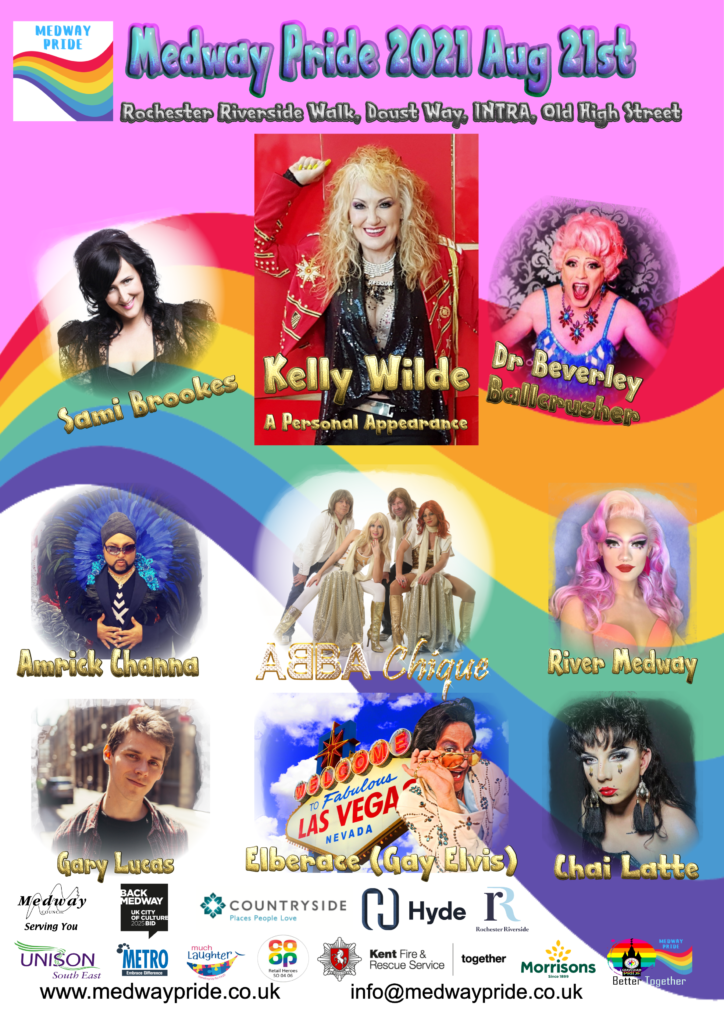 Entertainment includes
Kelly Wilde – Sami Brookes
Dr Beverley Ballcrusher
ABBA Chique
Amrick Channa – Elberace (Gay Elvis)
River Medway – Chai Latte – Gary Lucas
Medway Pride Radio Roadshow
Medway Pride festival #MPFestival2021 took place on Saturday 21st August 2021 it was a colourful fun filled event, for all the family to celebrate diversity and support equality, for all communities of Medway. It is in essence a community cohesion event inviting everyone to come together, to breaking down barriers and develop understanding and acceptance of each other. 
The festival was at Doust Way and include community stalls from the voluntary community sector to advise about the work they provide. We will also have community liaison team from Kent Police and Kent Fire and Rescue Services along with staff from Kent and Medway Community Health Care NHS Trust to support the community and discuss the services they provide.
The entertainment commenced from 12pm with opening speeches from Medway Deputy Mayor, Hilary Cooke, Vince Maple, Jole and supporters, with Medway Pride Radio Roadshow, and ABBA Chique, Chai Latte, Gary Lucas, Elberace (Gay Elvis), River Medway, Amrick Channa, Dr Beverley Ballcrusher, Kelly Wilde & Sami Brooks with the event closing a 8pm.
In addition to the Medway Pride one day festival on 21st we worked with Gravesham Pride CIC and Partners to make sure we had a safe 8 day festival that commenced with Gravesham Pride on Saturday 14th August 2021 followed by a week of events involving local partners and ends with Medway Pride on Saturday 21st August 2021.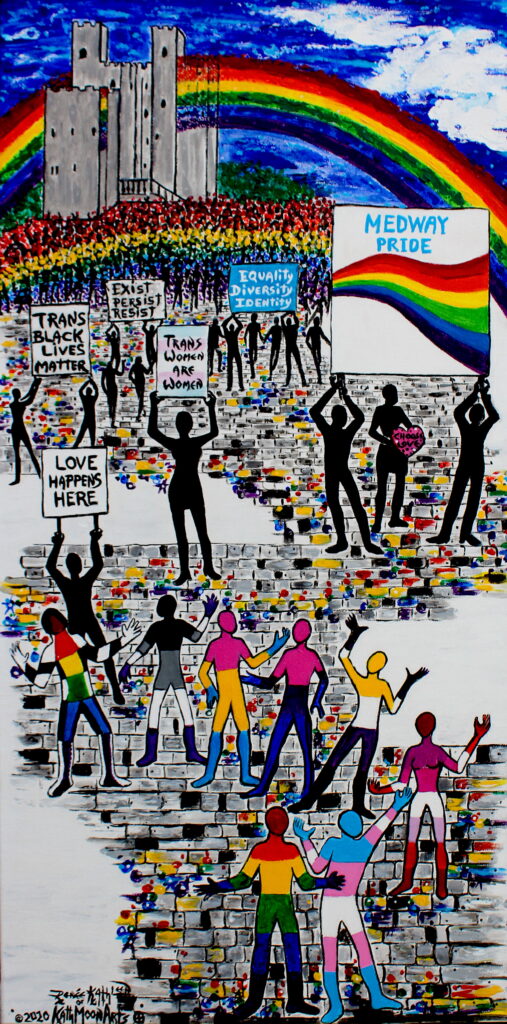 There was stage based entertainment from 12.00pm to 8.00pm which will include Local, National & International performances alongside a mixture of community stalls from organisations providing services in Medway and business stalls selling food, drinks and memorabilia which would be situated around the festival ground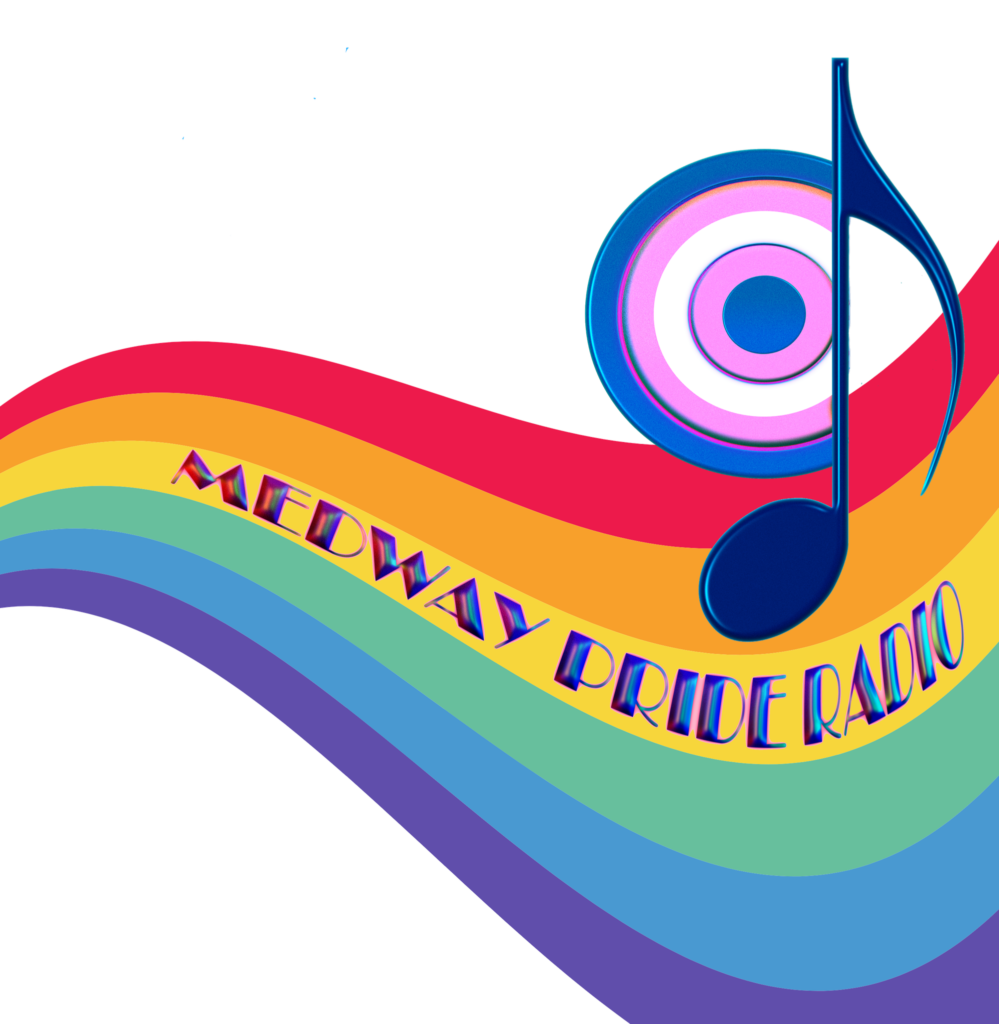 Medway Pride CIC is not just about the main Pride event, it is also an organisation which engages with the
community all year round.. With this in mind, we had planned to begin Medway Pride 2021 in February
with an Art exhibition during LGBT History Month with the support of Nucleus Arts however, this had
to be postponed to next year due to the ongoing pandemic restrictions.
Undeterred, we decided to replace this opening event with the launch of Medway Pride Radio (www.medwayprideradio.co.uk) with the support of the INTRA Cultural Consortium as a community asset to promote community cultural activities and all community voluntary support service across Medway. Medway Pride Radio is staffed entirely by volunteers who provide a mixture of music and light entertainment as well as thought provoking and educational material.
So 'Dont't Hide Your Pride'
because 'This is a Festival for Everyone to Enjoy'
for you to 'Be YOU and Make Some Friends'.
Community groups who wish to take a stall and businesses who wish to rent stalls can use our contacts form. we are planning to have food outlets, bars,drinks, sweets, kids entertainment etc.
To deliver this fantastic celebration of diversity we need to raise funding to cover the costs of #MPFestival20201, Medway Pride festival. It's not just the festival we are raising funds for as our goals for Medway Pride CIC are to support and improve community services for the LGBTQI+ community.
We shall be posting further information in the comming weeks and months advising how you can be involved as individual volunteers, you can register an interest via our contact form .
Fun for All
#MPFestival2021 intends to provide entertainment for all the family so everyone from every community can be involved. We will be encouraging local businesses and venues to join the fun, in the run up to, and during the festival. We will also look to colaborate with other intrested parties to provide other events in the run up to the festival.
Any businesses, venues, or other parties who wish to discuss fundraising events can contact us via our contact form. We can help promote your business via our website and social media pages.
Get Involved
How can we help
Medway Pride #MPFestival2021 will need your help and support to deliver the festival. We will be posting further information advising how and when you can help us.
We are looking to work with local businesses community groups and other organisations, to raise awarness of LGBTQI+ issues and raise funds to support Medway PrideCIC. Their involvement through participation in the Medway Pride event by providing stalls, entertainiment, and through sponsorship donations to our festival fund.
Individuals can support us through sponsorship donations to our festival fund and by volunteering to help with organising the parade and events.