Medway Pride 2021
Medway Pride 2021 Festival
Medway Pride festival #MPFestival2021 on Saturday 21st August is going to be a colourful fun filled event, for all the family to celebrate diversity and support equality, for all communities of Medway. It is in essence a community cohesion event inviting everyone to come together, to breaking down barriers and develop understanding and acceptance of each other.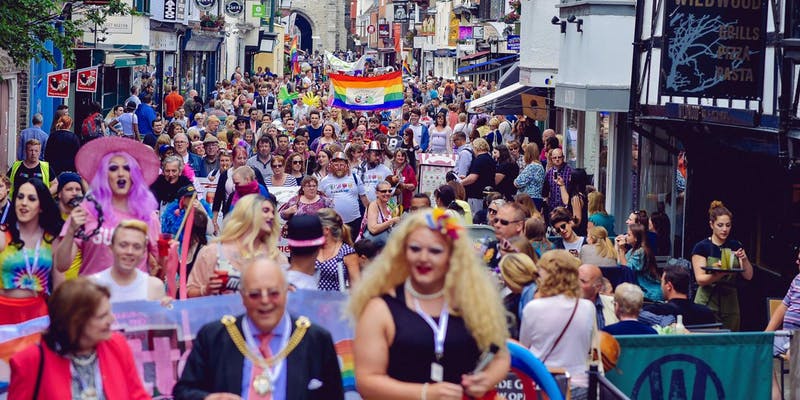 We are working with Medway Council and Partners to make sure we have a safe event which will include a Pride Parade from Chatham to Rochester Castle. We are inviting people from all communities, groups and businesses to join the parade to celebrate thier diversity and promote equality for all with the LGBTQ+ community. We encourage those joining the parade to bring mobile floats, perform dancing, play music and marching bands. Those wishing to take part in the parade can contcat us via our contact form
Once at Rochester Castle the fun will begin with a community festival in Rochester Castle Grounds. We are planning stage based entertainment from 1.30pm to 7.30pm. Around the grounds there will be a mix of community stall from organisations providing services in Medway and business stalls selling food, bars and memorabilia, kids entertainment bringing fun for all the family.
So 'Dont't Hide Your Pride'
because 'This is a Festival for Everyone to Enjoy'
for you to 'Be YOU and Make Some Friends'.
We are inviting local performers and professional acts to be part of the show, If you want to be part of Medways First Pride Festival #MPFestival2021 you can contact us via our contacts form. we will be collecting details of everyone who contacts us about performing and we will contact you to let you know the next steps when we are ready to book acts.
Community groups who wish to take a stall and businesses who wish to rent stalls can use our contacts form. we are planning to have food outlets, bars,drinks, sweets, kids entertainment etc.
To deliver this fantastic celebration of diversity we need to raise funding to cover the costs of #MPFestival20201, Medway Pride festival. It's not just the festival we are raising funds for as our goals for Medway Pride Community Organisation are to support and improve community services for the LGBTQI+ community.
We shall be posting further information in the comming weeks and months advising how you can be involved as individual volunteers, you can register an interest o=via our contact form .
Fun for All
#MPFestival2021 intends to provide entertainment for all the family so everyone from every community can be involved. We will be encouraging local businesses and venues to join the fun, in the run up to, and during the festival. We will also look to colaborate with other intrested parties to provide other events in the run up to the festival.
Any businesses, venues, or other parties who wish to discuss fundraising events can contact us via our contact form. We can help promote your business via our website and social media pages.
Get Involved
How can we help
Medway Pride #MPFestival2021 will need your help and support to deliver the festival. We will be posting further information advising how and when you can help us.
We are looking to work with local businesses community groups and other organisations, to raise awarness of LGBTQI+ issues and raise funds to support Medway Pride. Their involvement through participation in the parade and festival event by providing stalls, entertainiment, and through sponsorship donations to our festival fund.
Individuals can support us through sponsorship donations to our festival fund and by volunteering to help with organising the parade and events.